Application
The main feature of PP cable ties is that it does not absorb water and can keep the tension constant for a long time,The color of the general product is bright orange. It is mainly used for fixing underwater cables. The bright orange is easy for electricians to identify,PP Cable Ties available in bulk 1000 or 500 pieces bags or smaller 100 piece bags.
Technical Information
Material:Polypropylene (Can be float on the water)
Flammability of raw material : UL 94HB.
Excellent resistance to low temperature brittleness;Good stiffness ;High impact strength.
Resin meets the FDA requirements in the Code of Federal Regulations in 21 .
CFR 177.1520 for food contact.
Working (Operation) Temperature: -20°C - + 75°C (0°F - + 167°F) .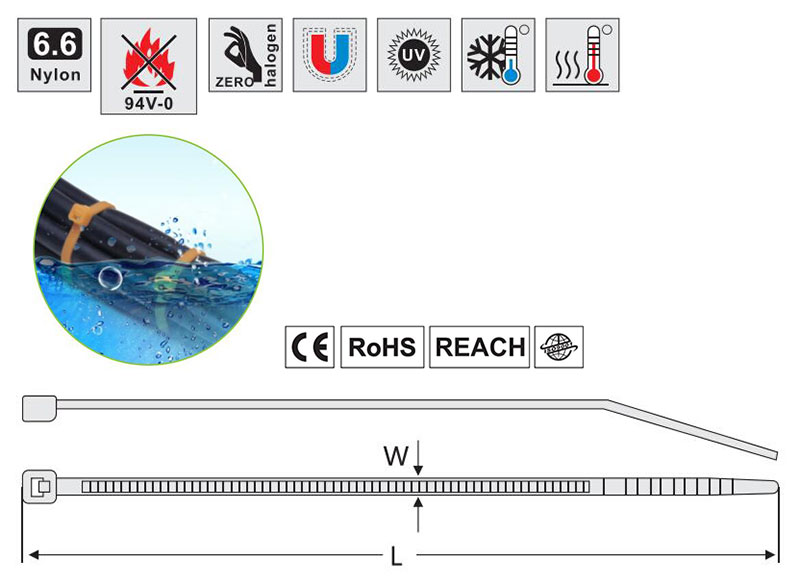 ---
Nyon products
Nyon is hygroscopic, it will absorb moisture, and lose the moisture too. To ensure optimum performance, the material must maintain a 2.5% water.

packaging may keep the moisture. In order to keep the quality,it's better to remain the original packaging for Inventories. if stored impropery especally in dry or cold environment, it will lose water from cable ties, and impact the use of cable ties. Once the package is opened; please use out the cable ties as soon as possible.
Here are our suggestion for the cable tie store:

Bubble box packaging for supermarket