Application
When using cable ties in an external environment, it is recommended to use UV cable ties. PA66 with UV additives can effectively play a role in outdoor fixed pipe or cable applications. The UV cable tie is generally black. The integrated structure can effectively maintain performance and facilitate packaging. 1000 pieces of UV ties are packed in bulk bags, 100 pieces or 50 pieces are packed in small bags.
Technical Information
MATERIAL: Polyamide 6.6(UV resistance)
Material brand: China Huafeng158L;Radici A45L;Invista 4820L
Flammability of raw material : UL 94 - V2
Humidity absorption: 2,7%-2,8% (23°C -50% R.H.)
Installation temperature: -10°C ~+85°C.
Working temperature:-40°C ~+85°C.
Max sustaiaable tempeature for short time:+110°C.
Good resistance to bases, oils, greases, oil derivates,chloride solvents. Limited resistance to acids.
Not resistant to phenols.
UV resistance (A variety of colors, black, milky white, silver gray, brown, dark green Cable Ties)
2.5*100/3.6*150/3.6*200/3.6*300/4.8*200/4.8*250/4.8*300/4.8*350/4.8*400/7.6*300/7.6*370/7.6*400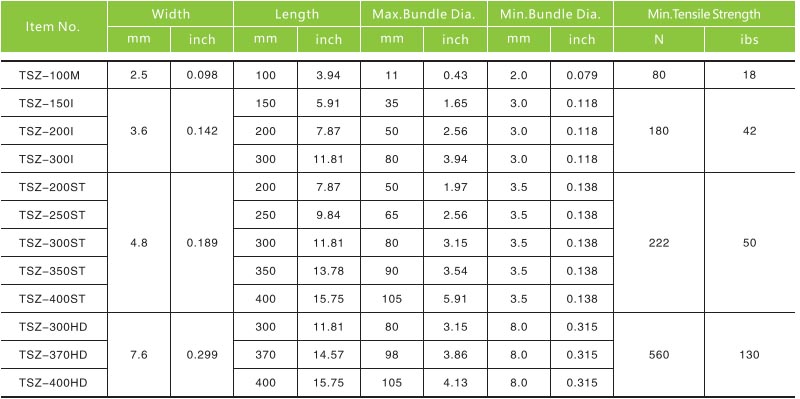 ---
Nyon products
Nyon is hygroscopic, it will absorb moisture, and lose the moisture too. To ensure optimum performance, the material must maintain a 2.5% water.

packaging may keep the moisture. In order to keep the quality,it's better to remain the original packaging for Inventories. if stored impropery especally in dry or cold environment, it will lose water from cable ties, and impact the use of cable ties. Once the package is opened; please use out the cable ties as soon as possible.
Here are our suggestion for the cable tie store:

Bubble box packaging for supermarket