Materail:High-quality PVC.
Structure: Consists of cover and bottom, features parallel holes on both sidewalls to facilitate cutting inwire application.
Advantage : 1.Up to 2500V insulation .Maximun service temperature to 550℃. Warp-proof:UL-94-V0.
2. Good design and advanced process. strongly united for cover and bottom, smoothly covers, no edges, all that protece the wires efficiency.
3.Low slotted, easy combination, simple assembled.
K-SK-Type
Characteristics:The design fits for international standards,The covers can strongly united with the bottom so that it couldn't be opened or maintained by laypeople.
K-SJ-Type
Characteristics: The chinese type fits for asia standaeds, The beveled cover is easy to be maintained.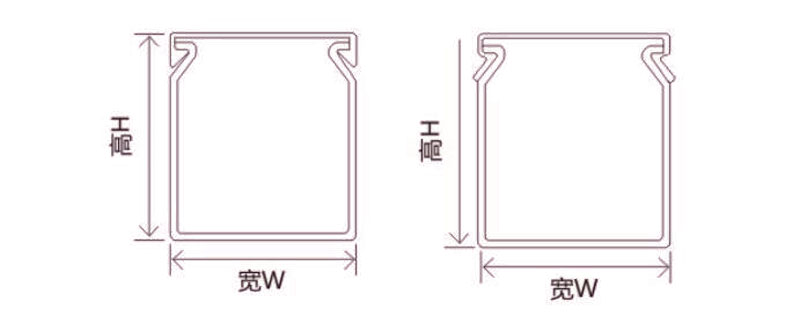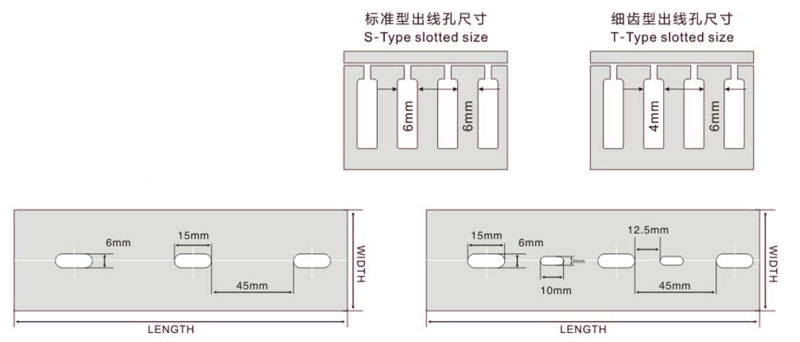 No.

ITEM No.

SIZE

(H×W)

Wire To Be Contained

SLOT TYPE

PCS/CTN

COLOR

LENGTH

01

PXC-2015

20mm×15mm

5~12PCS

T-Type

100

Grey

Blue

White

2M

02

PXC-2525

25mm×25mm

10~25PCS

T-Type

50

03

PXC-3015

30mm×15mm

5~15PCS

T-Type

100

04

PXC-3020

30mm×20mm

10~20PCs

T-Type

50

05

PXC-3025

30mm×25mm

15~25PCS

T-Type

50

06

PXC-3030

30mm×30mm

20~10PCS

T-Type

50

07

PXC-3035

30mm×35mm

25~40PCS

T-Type

50

08

PXC-3525

35mm×25mm

15~25PCS

T-Type

50

09

PXC-3535

35mm×35mm

20~25PCS

T-Type

50

10

PXC-4025

40mm×25mm

20~25PCS

S-Type

50

11

PXC-4030

40mm×30mm

40~45PCS

S-Type

50

12

PXC-4035

40mm×35mm

40~45PCS

S-Type

50

13

PXC-4040

40mm×40mm

60~70PCS

S-Type

50

14

PXC-4545

45mm×45mm

70~90PCS

S-Type

50

15

PXC-5020

50mm×20mm

15~20PCS

S-Type

50

16

PXC-5025

50mm×25mm

20~25PCS

S-Type

50

17

PXC-5030

50mm×30mm

30~40PCS

S-Type

50

18

PXC-5035

50mm×35mm

50~60PCS

S-Type

50

19

PXC-5040

50mm×40mm

60~70PCS

S-Type

50

20

PXC-5045

50mm×45mm

70~80PCS

S-Type

50

21

PXC-5050

50mm×50mm

80~90PCS

S-Type

50

22

PXC-5055

50mm×55mm

90~100PCS

S-Type

50

23

PXC-5060

50mm×60mm

100~120PCS

S-Type

50

24

PXC-5080

50mm×80mm

150~200PCS

S-Type

30

25

PXC-50100

50mm×100mm

200~250PCS

S-Type

30

26

PXC-6025

60mm×25mm

30~40PCS

S-Type

50

27

PXC-6030

60mm×30mm

30~50PCS

S-Type

50

28

PXC-6035

60mm×35mm

60~80PCS

S-Type

50

29

PXC-6040

60mm×40mm

100~110PCS

S-Type

50

30

PXC-6045

60mm×45mm

110~120PCS

S-Type

50

31

PXC-6050

60mm×50mm

110~125PCS

S-Type

50

32

PXC-6060

60mm×60mm

110~120PCS

S-Type

40

33

PXC-6545

65mm×45mm

100~130PCS

S-Type

50

34

PXC-8025

80mm×25mm

100~120PCS

S-Type

40

35

PXC-8035

80mm×35mm

110~120PCS

S-Type

30

36

PXC-8040

80mm×40mm

120~135PCS

S-Type

30

37

PXC-8045

80mm×45mm

120~140PCS

S-Type

30

38

PXC-8050

80mm×50mm

130~180PCS

S-Type

30

39

PXC-8055

80mm×55mm

135~190PCS

S-Type

30

40

PXC-8060

80mm×60mm

180~210PCS

S-Type

30

41

PXC-8080

80mm×80mm

240~290PCS

S-Type

18

42

PXC-80100

80mm×100mm

260~350PCS

S-Type

20

43

PXC-10050

100mm×50mm

130~180PCS

S-Type

20

44

PXC-10060

100mm×60mm

240~290PCS

S-Type

20

45

PXC-10080

100mm×80mm

260~350PCS

S-Type

20

46

PXC-100100

100mm×100mm

300~400PCS

S-Type

20